"#4 unConference " | IT zajednica Rijeka – Powered by 46elks 🦌

Autor: Deborah Brakus Kršul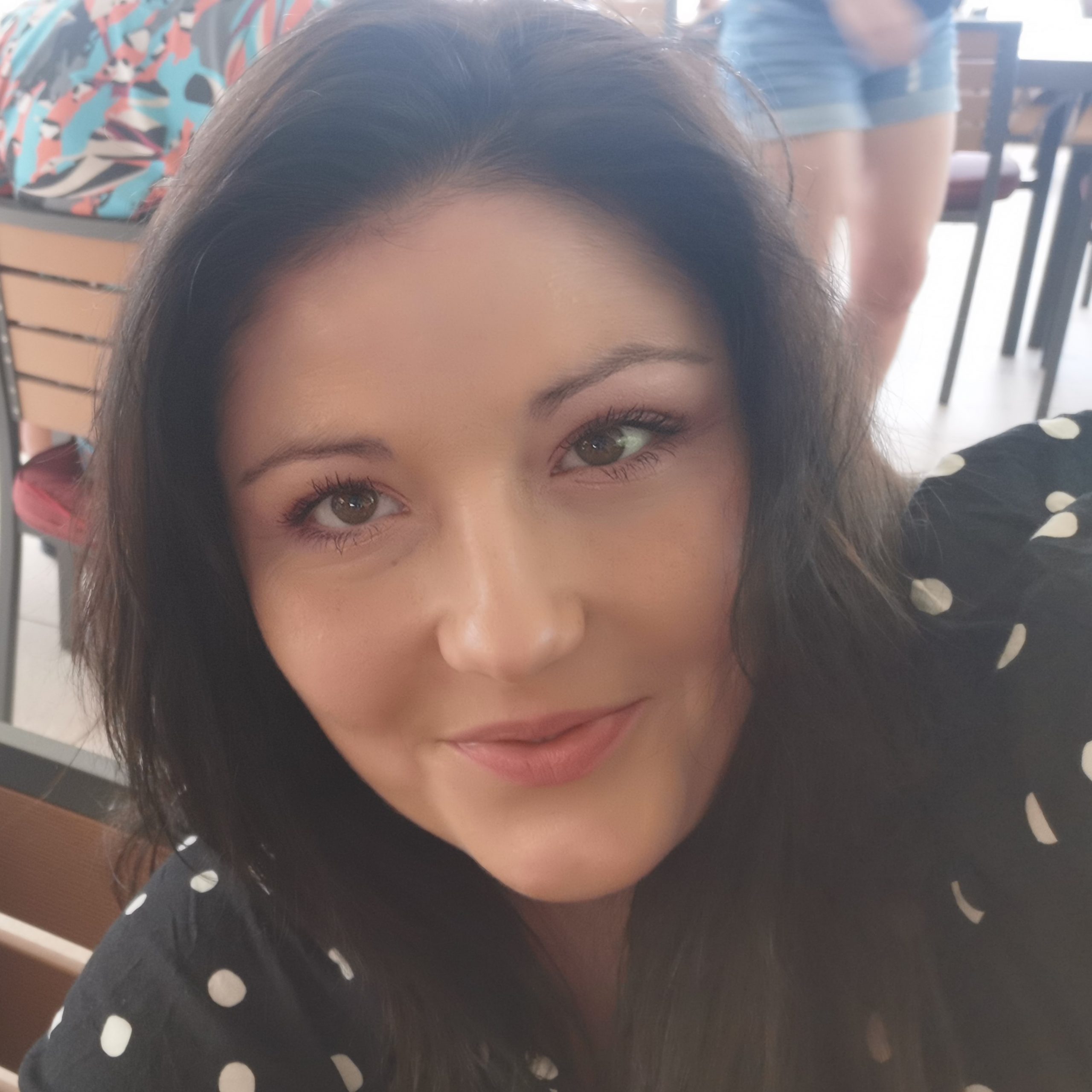 📌SPEAKERS:
Matea Tomic is a digital product designer who loves innovation and creativity. She will be talking about "UX design in business".
Juanluis Lozano is a senior Front-End Dev, Who will talk about "lifestyle of a remote developer working in a distributed agency with distributed working hours".
📌 HOST:
The Science and Technology Park of the University of Rijeka.
The purpose of establishing the Science and Technology Park is to encourage, through synergy of scientific, technological and entrepreneurial potentials of the University and the region, faster development of science and entrepreneurship and thus created additional values that will contribute to faster economic growth and competitiveness of the region and the country.
The services offered by the Science and Technology Park in cooperation with the Technology Transfer Office of the University of Rijeka are structured around three programmes:
1. Intellectual property protection and transfer,
2. Business Incubation (the so called spin-off companies),
3. Licencing and commercialisation of a newly developed product and-or intellectual property.
📌 SPONSOR OF THE EVENT: 46elks Croatia
Welcome to our developer friendly API service!
We make it easy for you to add custom telephony features that are perfectly suited to the way you do things – because sometimes 'off the shelf' just doesn't cut it.
You can use 46elks for:
Sending SMS text messages
Receiving SMS to your applications
Sending & receiving MMS pictures
Controlling incoming and outgoing telephone calls with code
Building interactive voice sessions
And other telephony features.
WHAT IS UnConference ?
Unconference is a event organised by IT community Rijeka at different (IT relevant) locations in Rijeka. We do this in order to help IT folk connect with each other and build something cool together.
OPEN INVITATION
Come and join us! We are open for you to give a talk about anything IT related and mingle with IT folk there
ORGANISER
Rene Brakus who is a partner at https://46elks.com and a person trying to jump start the IT tech scene in Rijeka
As always, if you missed it, you can listen through the whole conversation on our YouTube channel:
More about Matea:
Matea helps companies build new projects from ideation to development.
She also sets up solid foundations and repeatable systems for organizations' design processesand frameworks. Her priority is creative ideation techniques and fast iterative processes.
Over the last 7 years, she had worked with clients and companies of all sizes in the medical, hospitality, education, fintech, and communication industries.
She is also a mentor and a speaker who focuses on the result, benefit, outcome.
More about Juanluis:
Juanluis is working remote for the last 5 years and distributed for the last 3.
Born and raised in Venezuela with Croatian roots. Living the remote work dream.
lifestyle of a remote developer working in a distributed agency with distributed working hours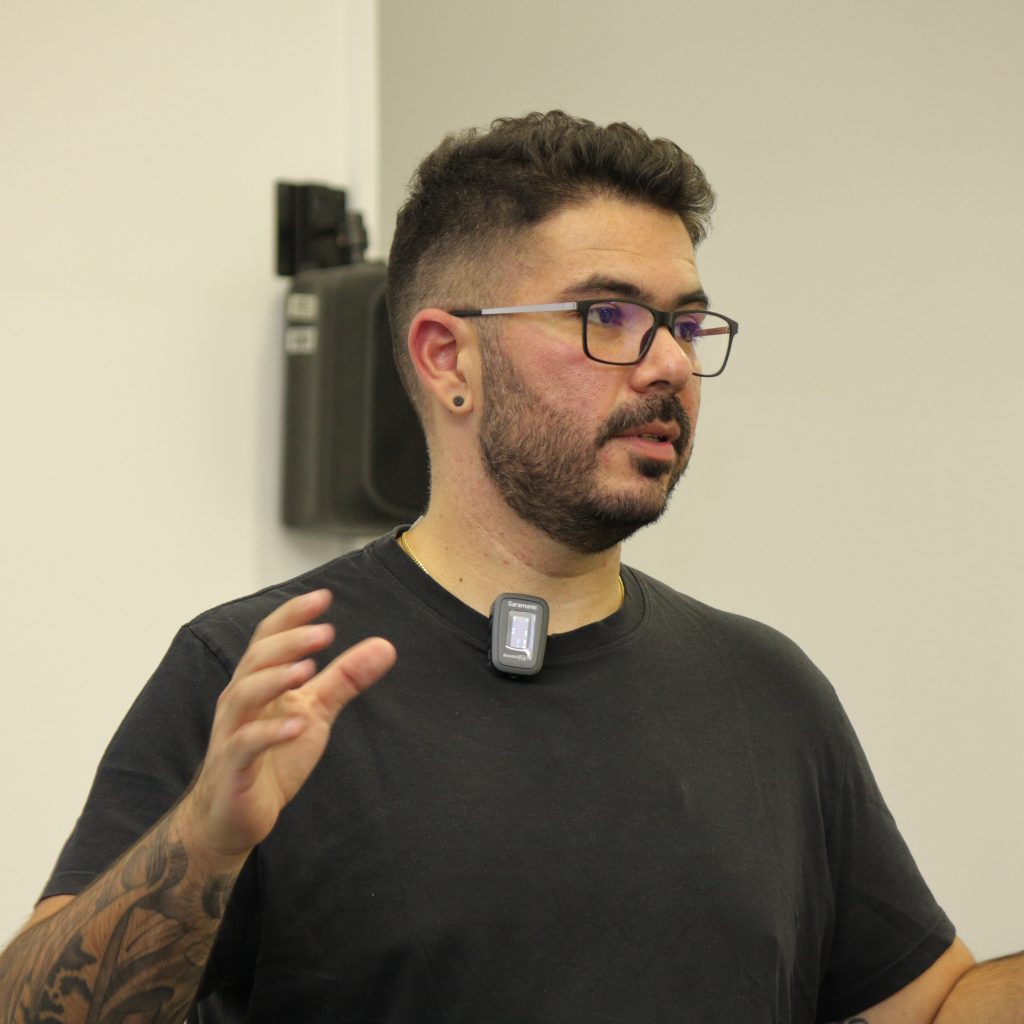 While a lot of people due to the global situation that is currently happening are forced to work remote or work from home (I will detail what I think the differences are later), I got some tips & tricks that may help you go down the road with your work and your life as separated as possible.
The reason why I think that WFH is not the same as Remote Work, is that WFH for some reason forces you to actually Work from Home and have let's say a fixed schedule 8 to 4 or 9 to 6 or whatever your employer, company, agency has as a working schedule.
Some tips that could help you be better at working from home are widely found in the internet in some other articles, even Mark gathered some of those items in this awesome blog post from Annertech.
I want to add a couple more items that have worked for me in all this journey:
Don't let work be the first thing you do in the morning when you wake up
As simple as it sounds, a lot of people finds just waking up and working a better chance to get an "extra hour of sleep", but in the long run it might affect your day-to-day life thinking that you need to wake up to get the work done.
I usually wake up about 2 hours before I start working, and do all my morning routines as: make/drink coffee, take a shower, get the kids up, drive my older daughter to day-care, read the news/interesting articles, twitter (as any other person would do on his/her free time) and then almost disconnect from everything and start working.
All that "foreplay" to work, gives me the feeling I'm going to work after all this (as usually you would do all of that and drive to work, take the bus to work or walk to work) so when you start to work, your mind is clear and you actually woke up.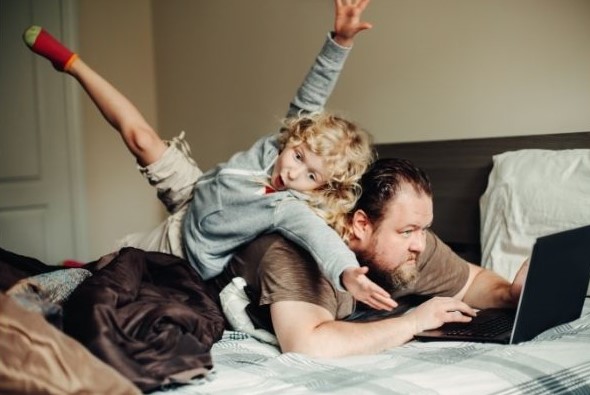 Not all of us have the same luck/opportunity to have a separate rooma at home and start working. I'm lucky enough to have a separated room which I call office to isolate from the other people at home and do my work.
Yes is the answer if it helps to get better focus and concentration, Not always is the answer if it helps you get more work done, since it depends on how much you can get affected to external sounds, voices, kids running around, or some TV show in the living room. I know a lot of people that are very productive in an open-space or in an isolated office, so that depends a lot on what works for you.
This is the space I have to get work done currently: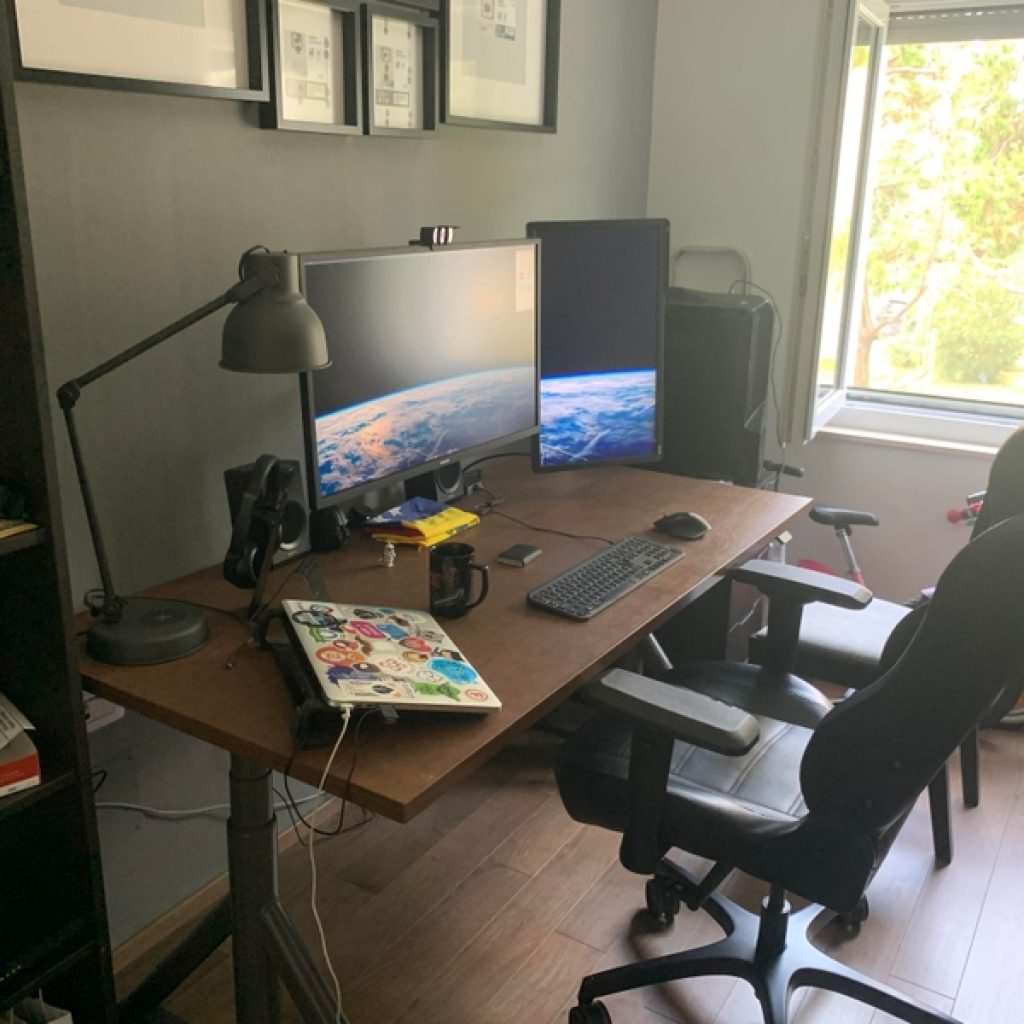 Now I would like to get a bit into "Remote work is a lifestyle, not a way to work".
I like to think that is a lifestyle since some things have to be involved in order to do remote work:
Find a company/agency/employer that believes in the remote work
Be mature enough to work remote
Find a company/agency/employer that believes in remote work
A company may feel "ok" with you working from home, since they know you are home and you are more likely working. But a company that allows you to work from the park, from a coffee shop, from a parking lot (car park for some regions) is not easy to find.
Be mature enough to work remote
I don't want to put on the line the verdict if you are a mature person or not, but sometimes working remote can really show how "engaged" you are in getting the work done. Some people might find working in a coffee shop a good choice, or in a park. But when you meet people in those places, you have to be mature enough to think that you went there to get some work done (Taking advantage of the Wi-Fi or just to have a coffee while working) and not to get some "social interaction", that if it happens you need to know that the piece of work you meant to do in that place, has to be done somewhere else.
Working from the car, while I wait for my daughter's training to be over: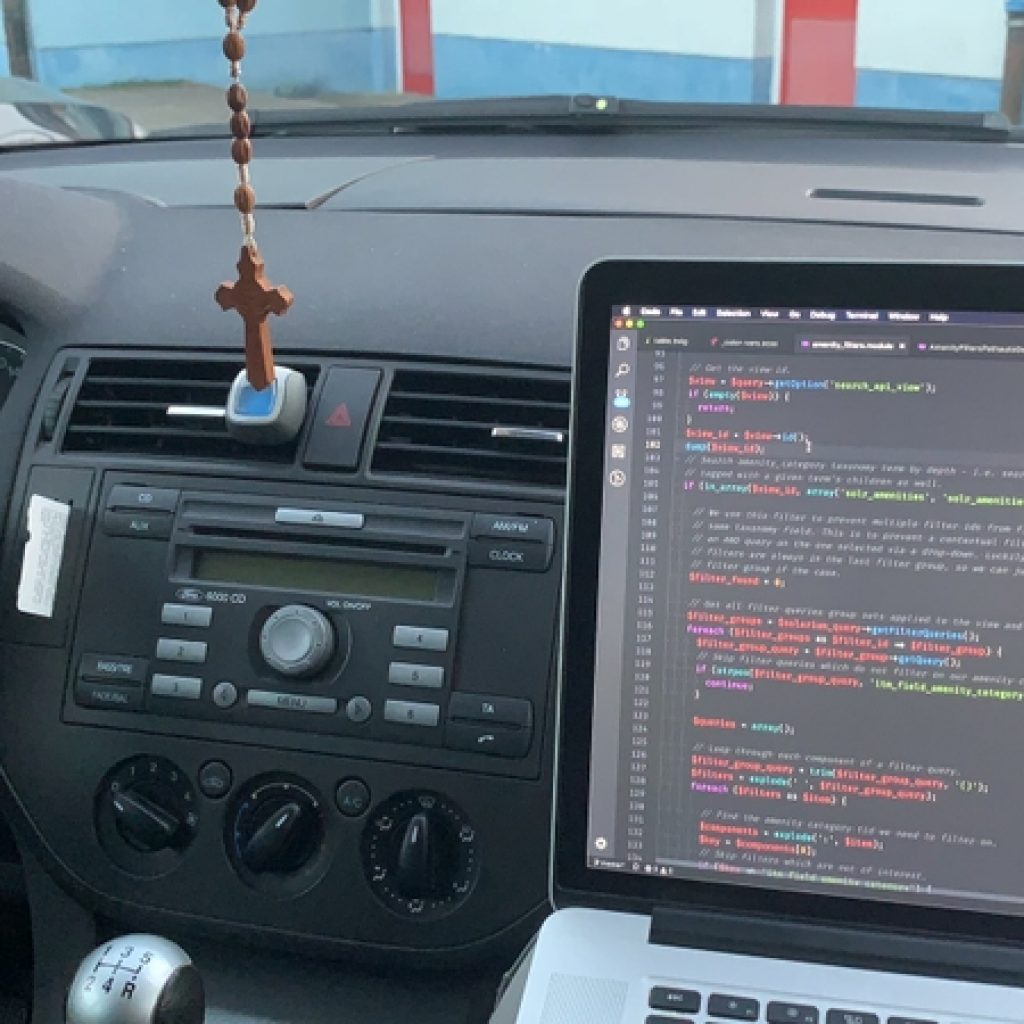 Most of the time, while doing Remote Work, you are allowed to do Flexible Working Hours (as we do in Annertech), which I find pretty handy since they allow you to fit your work around your day-to-day basis, for example:
If you got some paperwork, go to the bank, sick child
If you are not feeling focused, under stress
If you don't feel 100% or feel pretty tired
You can just let other people know and come back to get the work done later.
Don't forget to take breaks
It's very easy to start working on something (or to start browsing YouTube and Wikipedia) and then keep at it for hours. You need to set an alarm for a break every X minutes (I suggest 45, others say 25 – find what works for you) and get up and stretch the legs or do some exercise. 5 minutes of stretches, squats, walking up/down the stairs so you don't end up with bad posture from sitting too long.
You might work on something and have to figure out how long it took, and often you'll think "I spent the whole day sitting at the desk but couldn't have spent any more than one hour on X, and 1.5 hours on Y, so where has all the time gone?". If you have a time-tracker (note when you start and when you finish each task), you'll know how long you spent on each item. That's also handy later for estimating how long each task will take you.
TRUST
Trust is what I think that Remote Work is based on, Employees are given the trust that they will do the work as soon as they are able to, and in return, of course if the trust is respected and valorated, they will get the work done in time.
So, why do I think this is a lifestyle? Well, you work when you are able to work, you mold your work to fit your daily duties and fit your daily duties to fit your work. Everything is a balanced environment, while WFH in a fixed schedule, you basically fit your life according to your fixed 8-4 or 9-5 work schedule.
AUDIENCE QUESTIONS
FILIP PRAVICA – WHICH TOOL YOU USE FOR COMMUNICATION ?
Juanluis: We are currently using Teams because it is easier for us to use, until a year ago we used Rocket chat but it did not suit us.
RENE BRAKUS – WHAT IS YOUR MOST PRODUCTIVE PEROID OF THE DAY ?
Juanluis: It depends on my mood when I get up, I usually feel more productive in the morning. After I take the kids to school it's still 8 in the morning and I'm still fresh and not stressed.
After lunch I already feel tired and it's a little harder to keep working, but it really depends on the difficulty of the task and how rested I am.
UX design in business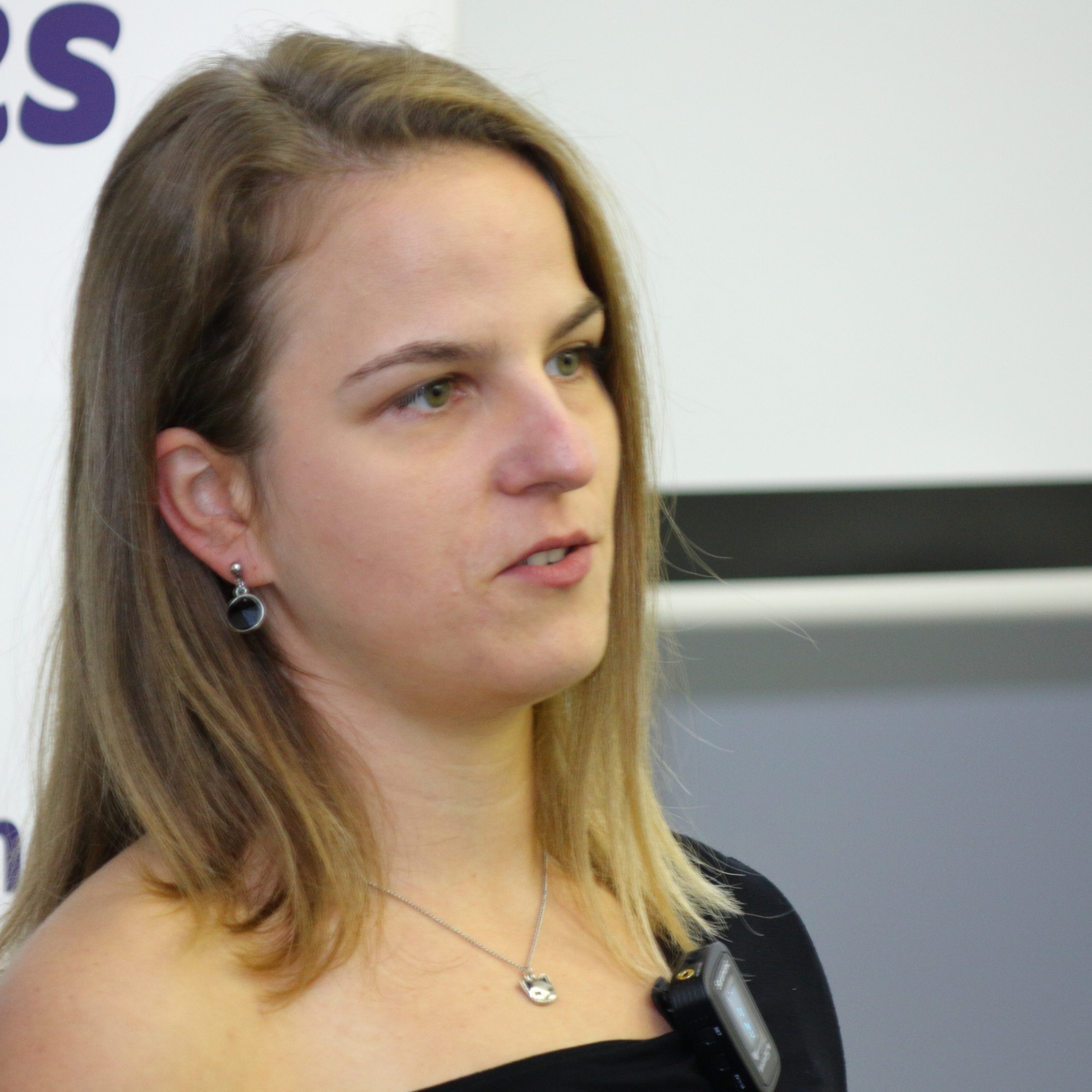 Matea Tomić will help us find out what are the answers to some of the most common questions future designers and anyone who's interested in design has. What is UX Design? How to start designing? We'll give some practical examples, talk about tools designers use and what is the best approach to start with design of digital products.
You can see some of her work here https://dribbble.com/mtomic2592
Today, there is tremendous proliferation of digital products for large enterprises to small businesses. Most of the businesses are on digital wheels like mobile apps and websites with the common challenge to secure customer attention like never before. There is a big focus on making an outstanding first impression or providing the audience with the best experience. This has brought focus on UX design, these days UX design has become more important than writing the code for the digital product.
WHAT IS A UX DESIGN
UX stands for user experience. User Experience surrounds all the aspects of the end-user interaction with the company, its products and its services. The focus of user experience is to find the synergy between the business goals and user needs. In simple words, it is about how the user feels while using your application, website or software. It caters to the user with preferences, perceptions, emotions, feelings and much more. A positive UX design enhances usability, accessibility and pleasure the interaction with your website or app.
UX PROCESS
The answer to this question is: it depends. Your process will depend on the type of product you're designing. Different projects require different approaches; the approach to a corporate website differs from the way we design a dating app, for example.
Most designers are familiar with the concept of "design thinking" as a UX process.
This process has five stages in it: discover (learning about the audience), define (identifying the users' needs), ideate (generating ideas for design), design (turning ideas into concrete examples) and test (evaluating the design).
Most design processes originate from this concept.
The first two phases (discover and defining the problem) are often grouped into the term "User Research" – i.e., understanding both the nature of the users and how this affects their needs.
A number of tools and methods can be used in each phase. Each tool or method might produce a different type of output (UX deliverable), but here we will focus on some of the most commonly used types to give you an overview of what you might be expected to produce in a UX design career.
INVESTING IN UX DESIGN UPFRONT CAN REDUCE COSTS DOWN THE LINE
With any new project your business takes on there is always a certain amount of risk. But because UX design and design thinking are focussed on research, analysis and testing, you're immediately setting yourself up for success.
More and more companies are starting to realise that preventing possible usability issues or problems from the outset, is far less expensive than fixing them later with product redesigns or bug amends. After all design changes are far easier to make than development changes – and therefore less expensive.
More often, the majority of the time only around 20% of bugs spotted within a product are actual problems. The rest are usability issues – most of which could have been solved in an initial prototyping stage (which is a core aspect of UX design).
Whilst working in this iterative manner may seem more costly to start with, it can save money in the long term and help you build a product that is set up for success, drives conversions and engages with your target users effectively.
PROTOTYPING
Prototyping is an essential step in the UX design process. By definition, a prototype is a "mockup" version of your final product, which is then used for user testing before a product launch. Its goal is to reduce the level of wasted time and money that can often occur when proper testing has not been carried out on a product prior to launch.
USER EXPERIENCE CAN HELP YOU INCRASE YOUR CONVERSIONS
What's user experience (UX) got to do with conversions? Everything.
Great user experiences can lead to great results. You don't create awesome user experiences just to make somebody happy. You want it to lead to something—be it sticking around on your social network or buying your stuff.
Whenever users land on your website, they're having an experience. The quality of their experience has a significant impact on their opinion ("Do I like it?"), the potential to earn a referral ("Do I tweet or talk about it?") and, ultimately, conversions—will people do what we want them to do?
Ultimately, when your website is built with your customers in mind, you will see higher conversions. To do this, you need to take into account how they view your website (both on a computer and mobile) and if all aspects are in working order.
If you can't afford to run a third-party test, take the time yourself. Comb through your website, look for grammatical errors, click on all the links, send a test contact email, and make sure the site is easy to understand and navigate. When you're the person that has built the site, it may seem intuitive to you; put yourself in your customer's shoes.
What do you like about the site? What could potentially be confusing or misleading? Are there any missing or broken links? Can this website be accessed and understood across the world?
According to a study published by Forrester Research stated that, while a great UI could increase the conversion rate of a website by 200%, a great UX could increase the same by almost 400%. Also, according to research done by Forrester, says that usability has a big effect on customers satisfaction; so much so that it:
Increases their willingness to pay by 14.4%.
Reduces their reluctance to switch brands by 15.8%.
Boosts their likelihood to recommend a product by 16.6%.
UX DESIGN CAN HELP WITH YOUR SEO
Although not as directly related to SEO as UI design, UX design can still contribute to the ranking performance of your site. Search engines use metrics to indicate the quality of your website. Your ranking is then affected by those metrics. Several metrics are closely related to UX design.
It comes down to this: SEO may get users to your website, but UX design will keep them happy. In many cases, SEO and UX best practices overlap, meaning success in one area will likely lead to success in the other.
Ensuring your site can be accessed and navigated by people of all abilities allows you to engage with as many people as possible, which can in turn lift your SEO rankings. Taking the time to guarantee differently-abled users will explore your online offerings with ease means more opportunities for conversions and happy search engine crawlers.
INCREASE YOUR BRAND LOYALTY WITH UX DESIGN
A loyal customer is any company's best promotional tool. For a company that sells a product or service, brand trust is vital. It assures that customers will want to buy their products or use their services and therefore provide companies with their payment information through the company's website.
Having a customer base with brand loyalty means that your customers do not question the quality of your products and know that they can count on the company to make things right if they are dissatisfied.
More importantly, customers reflect their positive experiences with a company by relaying their satisfaction to family, friends, coworkers, and strangers via customer feedback and reviews.
As the primary mode of contact with an audience, one of the most crucial aspects of a site or app is the design leading to optimal user experience, and the goal is to provide the visitors with the best possible journey.
But if your firm does not focus on UX or they are not leveraging the services of a seasoned UX design agency, the chances of providing great UX lessen significantly.
Great user experience drives and promotes brand trust and a customer's intent to continue their association with the brand. By providing great visuals, intuitive features, and smooth navigation, you are letting the audience know that you take thought for their experience and value their time.
To help win the hearts and business of your audience, you need to find a solid, reputable user experience design firm and work with them to achieve the best brand loyalty results for your brand.
According to the National Law Review, it can cost five times more to acquire a new customer than keep a current one.
UX DESIGN CAN HELP INCRASE WORD OD MOUTH REFERRALS
Word of mouth marketing (WOMM), also called word of mouth advertising, is the social media era's version of simple word of mouth.
Traditionally, word of mouth marketing was spread from one person to another based on recommendation.
Modern word of mouth marketing describes both targeted efforts and naturally occurring instances where users share their satisfaction with a brand.
In today's hyper-connected world, a single recommendation can have far greater impact – leading to word of mouth marketing (WOMM) or word of mouth advertising strategies to capitalize on the opportunity.
Many best practices and marketing tactics encourage natural word of mouth, but campaigns — particularly on social media — can have the explicit aim of promoting an online business' social exposure.
According to Nielsen, 92% of people trust recommendations from friends and family over any other type of advertising. Even academic research into WOMM has proven its effectiveness in conversion.
These two types of WOMM are called and defined as:
Organic word of mouth: Organic WOM occurs naturally when people become advocates because they are happy with a product and have a natural desire to share their support and enthusiasm.
Amplified word of mouth: Amplified WOM occurs when marketers launch campaigns designed to encourage or accelerate WOM in existing or new communities.
AUDIENCE QUESTIONS
JUANLUIS LOZANO: HOW MUCH HAS UX CHANGED IN THE LAST FIVE YEARS IN TERMS OF ACCESSIBILITY ?
MATEA TOMIĆ: Over the last five years I have noticed that more and more products are going towards like improving accessibility and keeping an eye on all those things. But I feel like that is also because more and more companies and businesses are starting to get educated on the purpose of UX. Therefore just because they are educated they have started to hire qualified designers to help them out with that. For example five years ago there were no ux researchers in the market.
IVANA OREŠKI – HOW WE AS A DIGITAL MARKETING EXPERTS SHOULD APPROACH TO MARKETING OR DESIGNER DEPARTMENT TO EXPLAIN THEM WHAT THE END RESULT SHOULD LOOK LIKE ?
MATEA TOMIĆ: I can explain how I would approach it. For example if they tell me this is necessary to achieve, my first question would be which is our target audience.
Second step would be creating user flows that would cover the whole site, ideally you would already have a sitemap.
And we would work together on achieving what is best from the marketing, design and business side.
Afterwards we can be playful or make site pretty but at the same time achieve the same goal.
FILIP PRAVICA: HOW DO YOU IMAGINE YOUR IDEAL COLLABORATION WITH THE DEVELOPERS ?
MATEA TOMIĆ: Currently I'm working as a ux and ui designer and I am responsible for the design and the final product.
Ideally I hand it over to the developers and they don't ask me anything, but in reality it's not like that and there are always additional questions especially if it's a big project.
I personally use Figma, it is a design platform for teams who build products together. Born on the Web, Figma helps teams create, share, test, and ship better designs from start.
Also I use Sketch, it is a 3D modeling computer program for a broad range of drawing and design applications — including architectural, interior design, industrial and product design, landscape architecture, civil and mechanical engineering, theater, film and video game development.
I also use InVision that takes designs from ideas to development in one unified platform. I try to make developers job easier.
🔗 IT ZAJEDNICA RIJEKA:
📲 +385996768133
GALERIJA SLIKA: